If I'm being honest, I am not the biggest fan of New Year's resolutions. I actually don't make New Year's resolutions because I have found that I am more likely to work towards goals that I don't formally label as resolutions. That being said, I am making a bit of an exception this year.
At the end of 2017, I decided I wanted to do a better job of documenting important moments in my life. In the past, I have tried creating videos documenting fun trips (see 2012 oldies here), writing one sentence every day in a "One Line a Day" memory book, and journaling, as ways to document important memories and events in my life. Somehow, it always seemed like I either didn't have enough footage or didn't have enough time to edit/write. This time, I am trying to hold myself accountable.
For 2018, I decided that I would aim to create at least 40 videos over the course of the year (because 52 seemed too aggressive for someone who couldn't commit to writing one line a day!), documenting important events and memories one week at a time. So far, I have found that creating this in a one-take vlog format has helped me stick to this goal because it requires the least amount of editing. For now, however, I don't want to restrict myself to any particular format because this is a journey after all, and I have no clue where this journey is going to take me . . .
If you would like to follow my journey, feel free to subscribe to my weekly videos here (I've already posted my first two!).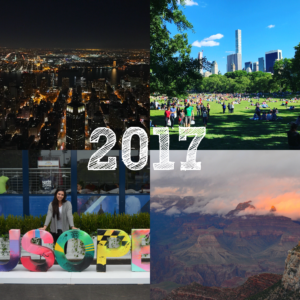 Farewell 2017!
2018, here's to more adventures . . .
Giulia ♥
Twitter | Instagram | YouTube | Tumblr | Pinterest