Starting A Journaling Habit
I have talked about my own journaling habit in a number of my previous posts, so today I wanted to share some tips and tricks that I have learned on how to start a journaling habit and stick with it.
I started keeping journals in middle and high school. While I continued the habit on-and-off over the years since then, I have been writing in journals consistently since 2016. Currently, I have two journals that I keep up with on a regular basis. One is a stream-of-consciousness journal, and the other is one where I write and attach photos to document all my memories and day-to-day events. (If you want to learn more about this, I go more in-depth in this blog post.)
So why would you want to start a journaling habit anyway? This New York Times article titled "What's All This About Journaling" talks about how writing in a journal not only helps increase mindfulness, memory, and communication skills, but it could also possibly lead to better sleep, a stronger immune system, more self-confidence, and a higher I.Q. With the added benefit of preserving your memories, why not journal?
"Journaling may sound hokey to some. But it can be one of the most useful and cost-effective tools we have to forge a better, more emotionally and mentally healthy life." – Hayley Phelan, "What's All This About Journaling?"
Getting Started
When starting to journal, it is important first to figure out why you want to journal. Is it something you want to do to reduce stress and use as a tool to help process your thoughts? Is it something you want to do for memory-keeping purposes? Do you want to use it to help you focus on gratitude? Coming up with your "why" can help you focus your writing and can also act as an important reminder of why you want to keep the habit going.
Next, it is important to figure out how you want to journal. There are tons of ways to journal and the article I referenced earlier notes that journaling both traditionally and digitally can be beneficial. The most important thing is to get started and to do it in a way that feels comfortable for you. You can go with the basics and put pen to paper in a notebook. You can start a Microsoft Word/Google Doc document and journal digitally. You can download a journal or note-taking app on your phone so that you can write on the go. You can even use an iPad and an Apple pencil and get the best of both worlds! Journaling does not have to be an expensive hobby. The options are endless and the choice is yours.
When choosing how you want to journal, there are a couple of things to bear in mind. Writing in a paper journal is generally not the most secure. If security is something that is important to you when it comes to what you are writing, I would suggest trying a digital journal, as digital options are generally easier to password protect. If you do go the digital route, don't forget to back up your work!
Making It a Habit
Oftentimes, it's the thought of trying to keep up with a journaling habit that is the most intimidating part. And that's totally normal! I would be lying if I said this wasn't something that I had struggled with in the past. In my experience, I have found a couple of things that have helped me to keep up with my journaling practice.
Start small. Try writing out just one page a day, or limit yourself to just 5-10 minutes of writing, or whatever seems the most manageable to you! This helps make the prospect of journaling and filling up a notebook a bit less overwhelming. Just take it one entry at a time!
Add it to a pre-existing routine. If you have a morning routine or a nighttime routine that you follow every day, try adding journaling to that routine. Adding a new habit to an existing routine can help you keep up with that new habit.
Remember your why. If you started journaling to help you improve your mental health, remember that goal. Remembering your "why" will remind you what you are working towards in the long haul and could encourage you to pick up your journal in moments when you might not want to. There are definitely some nights when I am too tired to journal about what happened that day, but when I remember how much I love looking back on past memories and seeing photos and descriptions of something small and sweet that I would not have otherwise remembered, it's much easier for me to justify staying up 5 more minutes.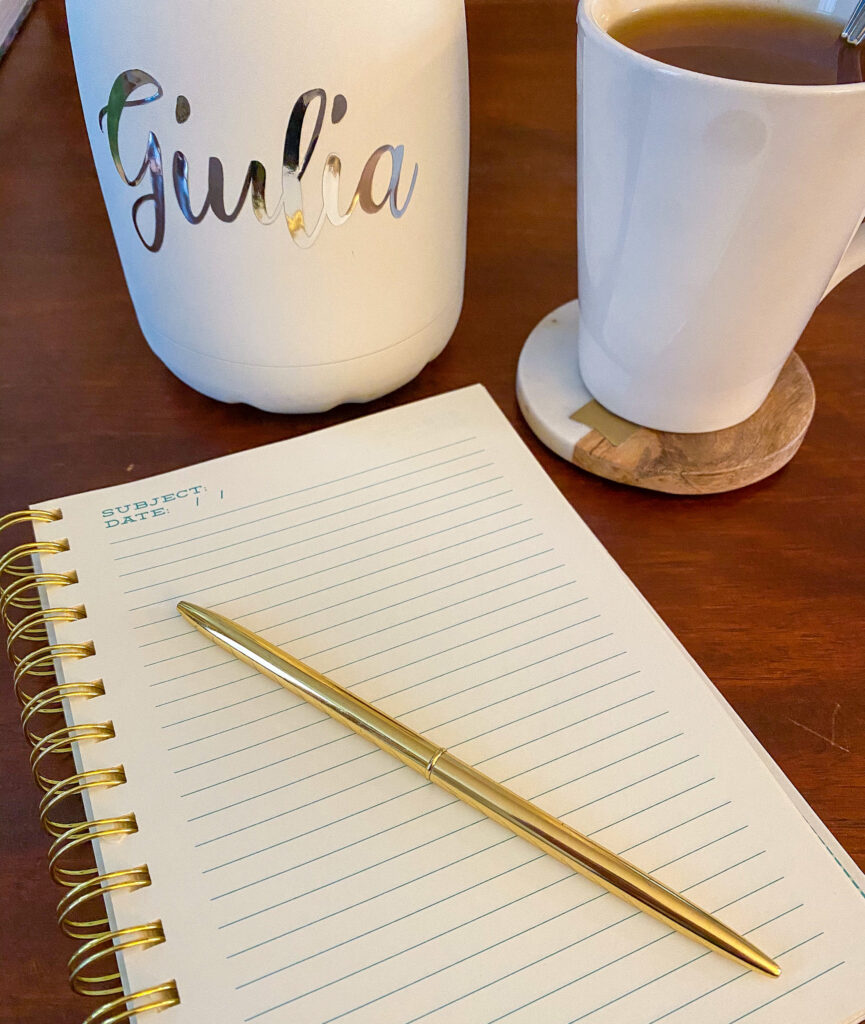 Happy journaling!
Giulia ♥
---