How Calendar Blocking Changed My Life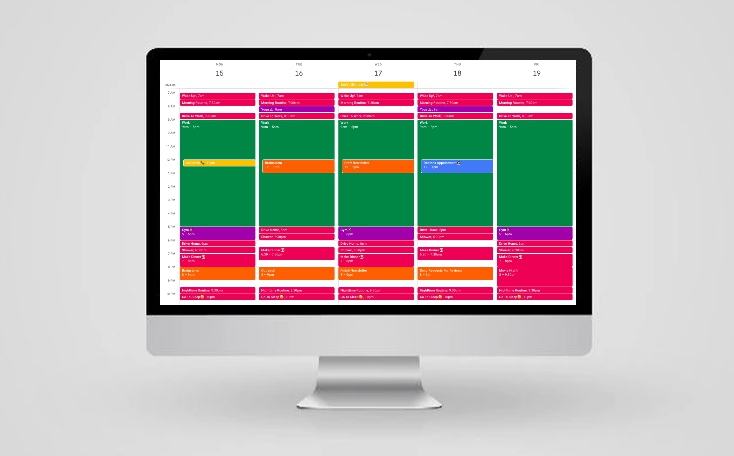 I was given my first planner in middle school. My school gave all students planners as a way to ensure that they were on top of their schedule, homework, tests, etc. This is what opened the floodgates for me because I still went out of my way to get myself a planner long after I graduated from middle school and high school. I loved how planners helped me stay organized and how I had something that kept track of all my tasks and responsibilities right at my fingertips. It became fun for me to pick new layouts and create a style that worked best for me, but I never quite felt like I had found "planner peace". Until now.
About a year ago, I was introduced to calendar blocking. It was actually this specific video that sold it to me. What drew me to calendar blocking was the fact that it could be digitized. All the information would not only be easily accessible to me absolutely anywhere I went, but was also easily editable in the event that plans changed. I could also get reminders directly on my phone (and watch!) before the start of any given task or event. Instead of looking for a planner that somehow perfectly combined both events and tasks, calendar blocking gave me a way to actually schedule time for each task I wanted to accomplish.
In case you are utterly confused as to what I am going on about ("what even IS calendar blocking?!"), I will break it down for you with an example of how I have been using it.
While you can certainly calendar block in a traditional paper planner or notebook, I would recommend using a digital calendar that syncs with your phone and computer, that way you can receive reminders and access your schedule on-the-go. Digital calendars also give you the option to invite others to specific events or calendars.
One amazing feature (and probably the best way to get started with calendar blocking) is the ability to create separate calendars to best fit your lifestyle. This helps you color code [insert Hallelujah Chorus!] each task, and also choose different calendar views if you only want to look at one specific calendar or category at a time. Don't want to clutter your screen with your personal items? Simply uncheck the box, and they are hidden until you want to see them again. Here's an example of what something like this might look like. (Please note, the boxes that are unchecked below are the ones that come with Google Calendar by default. I decided to go with my own custom calendars and uncheck those.)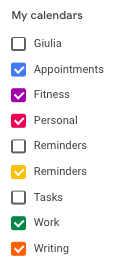 Let's zoom in on two days that show all the calendars and color coding above. I personally start calendar blocking any given day or week by marking my "wake up" and "go to sleep" times so that I can visualize the hours in the day that I have to work with. Then, I add in all the appointments I know are pretty much set in stone (scheduled doctor's appointments, meetings, standard office job hours, etc.). If you are trying to figure out how to make time for things in your life, you can then use the gaps of time that remain to put in your daily routines/tasks, and see where you have time left to slot in other items you want to focus on.
Say you are working on starting up a writing company on the side of your normal 9-5 job. Once your work schedule, appointments, and habitual tasks are put on your calendar, you can then see all the available time you have to work on your company. Maybe you will see that you have an hour at lunch on Wednesday to work on your newsletter or an hour between dinner and bed to finish other writing tasks. Want to prioritize fitness as well? Figure out what time slots might work for a brief yoga session or trip to the gym!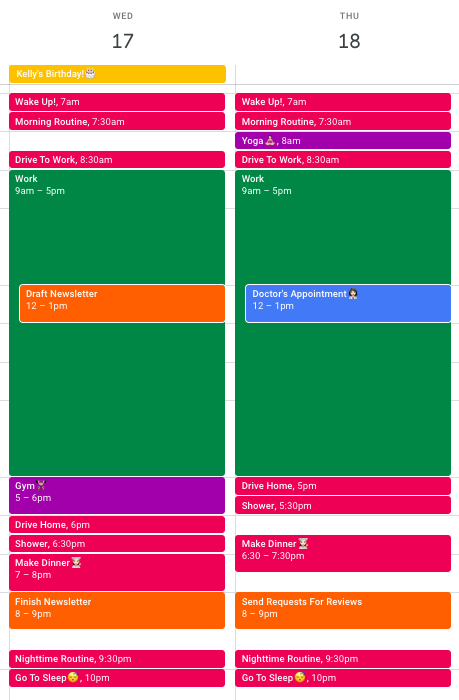 Another great feature with calendar blocking is that you can set events to custom repeat — your work schedule can repeat every weekday, and if you want to make your trips to the gym a regular habit, you can set that to repeat as well.
Calendar blocking can be as loose or as jam-packed as you want it to be. That's the beauty of it — it's completely customizable! I even like to add emojis to my events to make mine a bit more fun to look at 🙂 I also add "all day" appointments for birthdays and anniversaries that repeat annually so that I never forget a birthday again!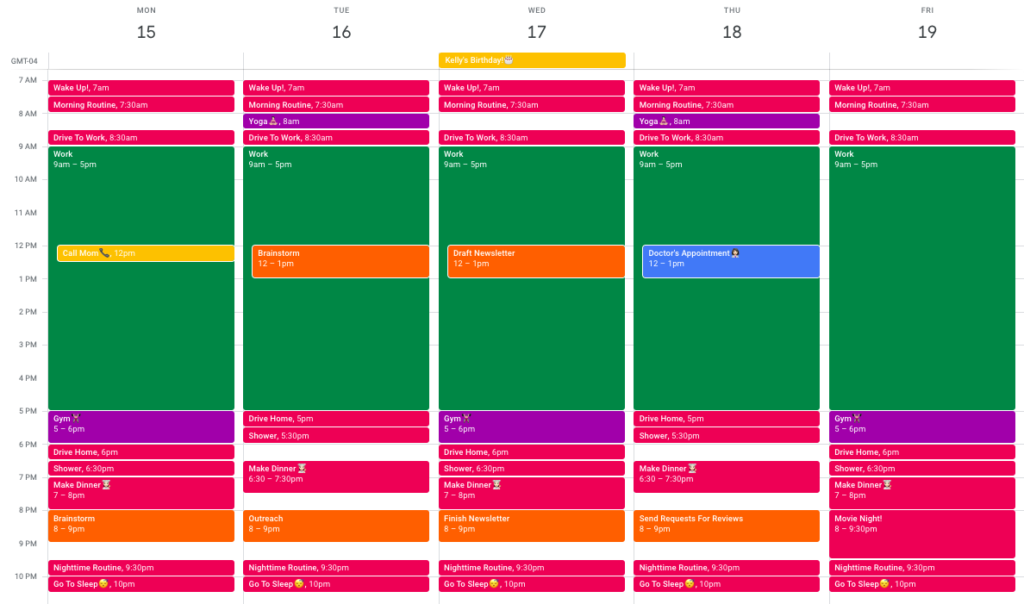 I completely recognize that this system may not be for everyone, but I just had to share. After all, the whole reason I was able to increase my productivity and see how I can spend time on things that are important to me was because someone else shared their experience. Honestly, just having that knowledge and that increase in productivity alone has been enough to change my life (. . . and save me some money on annual paper planners!).
Giulia ♥
---