How Holly changed my life
The summer I adopted Holly marked a huge turning point in my life. The beginning of that summer brought a handful of unfortunate events, but when I adopted Holly about halfway through, she brought me a whole new mentality and outlook on life. Walking into the shelter for the first time symbolized the moment I left all of the pain and negativity of my past exactly where they belonged: in the past. I was on my own for the second half of that summer, not only physically, but mentally as well, and there was truly no better time to start a completely new chapter.
The day I adopted her I was recommended to keep her in the carrier for the ride home, but I already loved her so much that as soon as I got in the car, I opened the carrier door and held her on my lap the entire way there. It was as if I had started my own family that day. Even if it was just a little family comprised of Holly and me, it was a family that I had started on my own. I was about to be the first living being to formally introduce her to the world, to show her her very first home, her very first dog, and her very first (and only) mommy. I would care for her and raise her all on my own, proving to myself that living my own lifestyle, in my own way, could and would cultivate more than one happy life.
Since that day, Holly has given me more than I could ever have imagined. 
She has taught me responsibility, showing me that my own personal study or relaxation time can be postponed to feed her, buy her litter, or take her to the vet. She has helped me to understand the right way to put someone else first, that it is important to take care of myself, but never to forget to take care of the ones who are unable to. She has made me push aside my own personal fears to make room for more important priorities like her health, wellbeing, and safety. She has taught me how to love in a non-romantic, unconditional, maternal way. She gives me reasons to laugh every single day. She has taught me that if you give love, you will get love in return. Lastly, and perhaps most importantly, she has taught me that everything I do is more than enough. I am able to take care of her well enough, to help her grow well enough, to make my own decisions well enough, and that the way I am living my life is more than good enough. If I can care for myself and another living thing and keep us both happy and healthy, I must be doing something right. She has taught me that no matter what I do, even if it feels like I am the only one that believes in it, it is more than enough, because I already have my own little family that I made all by myself. And we are more than happy enough.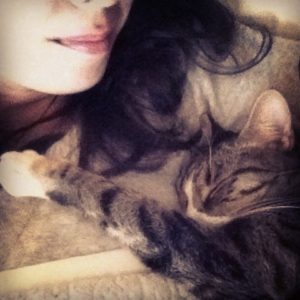 ---