Memory Keeping | Memory Boxes
If you couldn't already tell, memory keeping is a huge hobby and passion of mine. In addition to chronicling photos, journaling daily, and creating annual photo books, another way that I preserve my memories is by keeping memory boxes. What is a memory box, you ask? Well, that is exactly what I wanted to write about today!
A memory box, or a keepsake box, is a box where sentimental items and memorabilia are kept. Just like old photo albums or a time capsule, memory boxes are things that you don't necessarily go back to look at often, but when you do, you are reminded of happy memories.
What you keep in your box is completely up to you! Things you can keep in memory boxes include (and definitely are not limited to) :
tickets from travels
brochures from special places
cards from loved ones
Playbills or programs from shows
movie tickets
old journals/diaries
name tags from special events
wedding invitations
awards and certificates
the list goes on . . .
A lot of the things that you might keep in a memory box are also things that could be saved in a scrapbook. I have tried scrapbooking before, but over the years, I found that keeping memory boxes worked better for me. I like keeping brochures, programs, and pamphlets in their entirety instead of cutting out sections to glue in a scrapbook. I prefer being able to flip through a program and see it as it was when I got it, but that's just my personal preference. While there are ways to paste entire brochures in a scrapbook, I also keep three-dimensional items that I wouldn't be able to put on the pages of a book. I also know that trying to maintain a scrapbooking hobby would not only be time-consuming, but I have a feeling I would find it hard to maintain (throwback to how I found it hard to keep up with journaling practices I have tried in the past). Instead of setting aside time to cut, format, and paste memorabilia from each trip or memory, all I have to do is take the items I want to save and put them in a box!
I have been keeping memory boxes for over 20 years, so, as you can imagine, my collection has long since outgrown the one box I started with. To keep everything organized, I labeled each box as a general category and put items in their respective box (e.g., labeling each box a time frame like "college" and "grad school" or designating one box to one group of people like "family" and another to "friends"). Within each box, I further organize things (because of course I do) by subdividing everything into sections that make the most sense to me. For example, in the memory box I have for family, I separated memorabilia by specific family members. For memories with J, I organized items by each individual trip we have taken together.
Here are some of my memory boxes and a small sample of special items I've kept over the years 🙂 :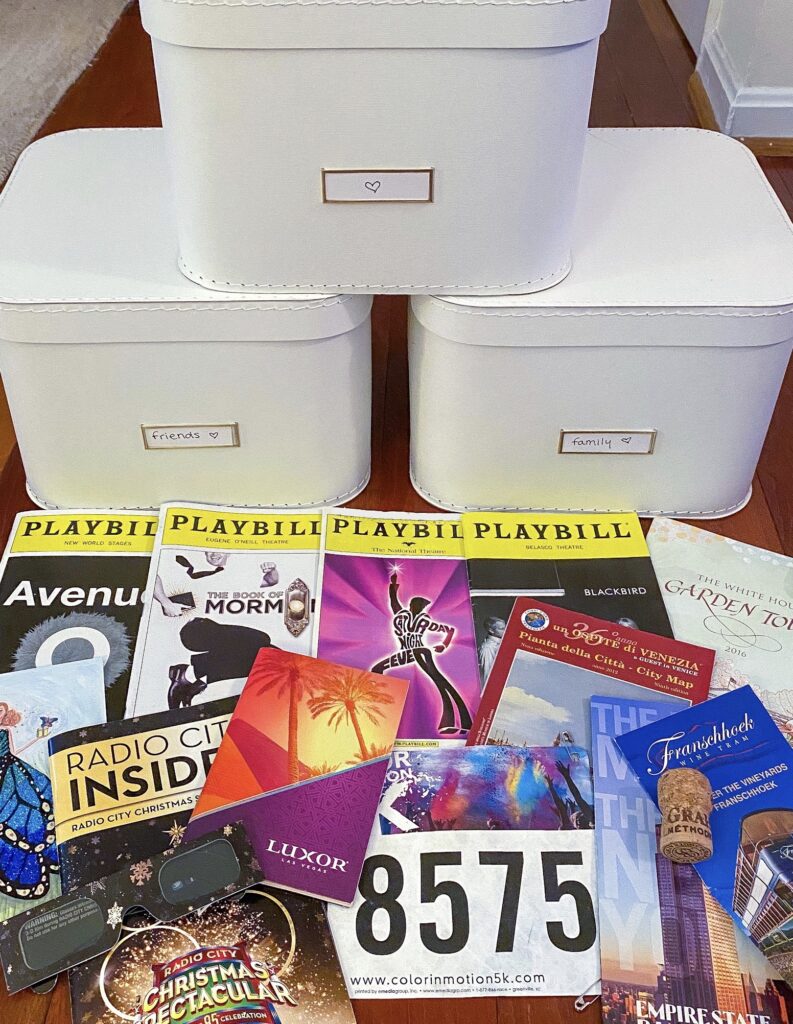 Memorabilia in my collection include my race number from when my friends and I did The Color Run 5K, the program and special effects glasses from when my mom and I went to see the Radio City Christmas Spectacular, a card from my best friend, the room key and brochure from where my friends and I stayed for my 21st birthday in Las Vegas, the cork from J's and my honeymoon champagne in South Africa, and Playbills from some amazing shows I have seen in New York City.
If you are looking for other ways to memory keep, I have an entire board on Pinterest where I have been pinning lots of fun ideas!
Do you have a special way that you preserve your memories? I'd love to hear about more ways to document special moments and sentimental items!
Giulia ♥
---